Tik Tok review

Published & copyrighted by BYTEMOD PTE.LTD.
Iconik-gaming.com is not an official representative or the developer of this application. Copyrighted materials belong to their respective owners
Tik Tok is a global video community powered by music. Whether it's dance, free-style or performance, creators are encouraged to let their imagination run wild and set their expressions free. Designed for the global creators, TikTok allows users to quickly and easily create unique short videos to share with friends and the world. TikTok is the new cultural benchmark for global creators. We strive to empower more creative minds to be part of the content revolution.

[Facial Recognition]
High-speed image capture and perfect facial feature matching for all your cute, cool, silly, goofy and outrageous expression.

[Crisp Quality]
Load instantly, smooth interface, and lag free.
Every detail displayed in perfect quality.
Your eyes will thank you and your mom will love you.

[Mobile Studio]
The perfect marriage between artificial intelligence and image capturing.
Enhancing product offering through rhythm synchronization, special effects, and advanced technology.
Turn your phone into a full-blown creative studio.

[Massive Music Library]
A sea of music library with fresh editor's pick daily.
Take your creative potential to the next level and unlock the world of endless possibilities.

[Gaga Dance]
Gaga Dance launched! Start a Gaga Dance competition with your friends!How many points you can dance?
Screenshots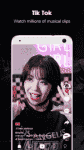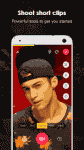 Rating:

4.6

Voted:

1523901

Size:

66M

Version:

2.4.7

Autor:

BYTEMOD PTE.LTD.

Content rating:

Teen

Rating:

4.9

Voted:

47.4K

Compatibility:

Requires iOS 9.3 or later

Size:

382.3 MB

Version:

14.7.0

Autor:

TikTok Inc.

Content rating:

12+

Languages:

English, Arabic, Bengali, Burmese,...